Welcome to Thrive Kids Ministry at Thrive Church! We want to come alongside you, as the parent, to lead your children into a growing relationship with Jesus Christ. After every service or event, we hope your child has fallen more and more in love with Jesus and experienced His transforming love. 
On Sunday mornings, children 6 weeks old through 5th-grade experience a great time at church through our welcome time, activities, music, and bible stories designed just for them. 
We value safety in Thrive Kids….
Thrive Kids is overseen by a Thrive Kids Pastor, a Children's Ministry Assistant, and a team of amazing volunteers.
To ensure that your children are safe in our care, we utilize a secure check-in system. When you arrive, children may be checked at the Thrive Kids sign-in station. Children will receive a numbered name tag. Parents receive a receipt with the matching number. Only the person with the correctly numbered receipt can pick up the child. 
We also have a minimum of 2 volunteers present at all times. All have been background checked, love Jesus and our Thrive Kids.
10 Minute Cry Policy: We want all the kids to feel loved and welcomed. If your child seems overwhelmed and is upset, we will try to comfort him or her. If our efforts are unsuccessful we will contact you after 10 minutes.
We value fun in Thrive Kids…
We want kids to enjoy being at church and to know that not only is being a Christian fun, but God Himself is fun! We structure each class and offer activities throughout the year for kids and families to have fun together.
Current series in Thrive Kids…
Thrive Kids are currently going through the alphabet with each letter representing a bible story, a lesson, and a life application associated with the letter. The main goal of the series is setting up a foundation of what it means to be a Christian, how we can best exemplify that through our actions, defining attributes of God, how we can listen to Him, and how we can show we are Christians through our character. 
Sunday morning schedule in Thrive Kids…
Class opens at 10:20 as kids are greeted with a fun-loving volunteer team, a welcome activity, and some time to play with their friends. Following this time together our Thrive Kids will participate in worship together, their lesson, and a time of prayer. The morning will conclude with a wrap-up time of a snack and fellowship/play.
  Summer fun in Thrive Kids: Summer Family Adventure Days…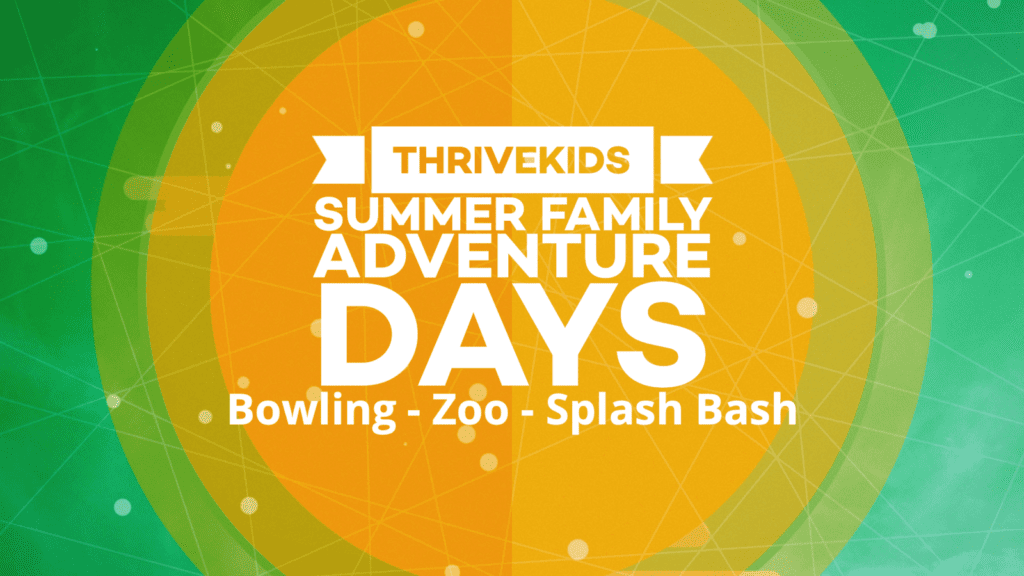 Thrive Kids is excited to host and invite you to our Summer Family Adventure Days. We are looking forward to having tons of fun, fellowship, and in general spending time with our church family outside of Sunday. 
You are also welcome to invite your family and friends to join in the fun. 
We do ask that you please RSVP for the event at the provided link below. This will help us plan accordingly as each event will have its own registration link. 
If you have any questions please feel free to email Elizabeth or leave any questions/comments on the registration form.
Bowling: June 27th @ Westgate Lanes @ 10 am,  More information on the registration link – Register Here
Zoo: July 11th @ Austin Zoo @ 10 am  More information, available on the registration link – Register Here 
Splash Bash: August 21st @ Thrive Austin Church. We will have an All Church Splash Bash following our service. Lunch will be provided, there will be a water slide and a chance for all to participate in a balloon fight. Invite all your family and friends for the fun!
Contact Elizabeth@thriveaustin.church with any questions about Thrive Kids.