Weekly Events:
 Sunday Worship Service: 10:30 am @ 4544 S Lamar Blvd, #200/#300 Austin, TX 78745
Small Group: Thursdays, 6:00 pm – 8:00 pm @ The Hatch Home
july Events:
Thrive Kids: Summer Family Adventure Days: July 11th @ The Austin Zoo @ 10 am
Thrive Kids is excited to host and invite you to our Summer Family Adventure Days. We are looking forward to having tons of fun, fellowship, and in general spending time with our church family outside of Sunday.
You are also welcome to invite your family and friends to join in the fun.
We do ask that you please RSVP for the event at the provided link below. This will help us plan accordingly.
If you have any questions please feel free to email Elizabeth or leave any questions/comments on the registration form.
Summer Clothing Drive: June 17th @ 5 pm. We meet at First United
Methodist Preschool – Downtown Austin
During our monthly outreach we have the privilege of feeding the homeless and handing out clothes. Thrive Austin collects donated clothes from our church community on Sunday mornings throughout the month. We will be distributing these donations at our next outreach with Austin's homeless community on the 3rd Thursday of the month! We would love for you to join us as we serve the homeless of our city with a meal and clothing.
More information on all of our church events can be found on our
Facebook Page.
August Events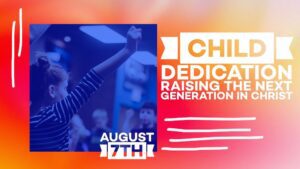 On August 7th we will have Child Dedications during our service. This is available for all Thrive Kids and Thrive Students, not just babies/younger kids. If your family is interested in participating, please email Scott or Elizabeth.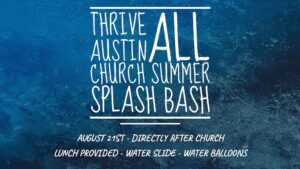 On August 21st we will have an All Church Splash Bash following our service. Lunch will be provided, there will be a water slide and a chance for all to participate in a balloon fight. Invite all your family and friends to join in the fun!